COVID-19 LEVELS 2-4 PRICE FREEZE:
No Covid-19 surcharges and no PPE levy... our pricing that came into effect on 1st April 2019 still applies
Thermann 26 Gas Continuous Flow Unit
The Thermann 26, energy efficient gas continuous flow unit ensures you will have enough hot water, when you need it. With a 12-year warranty, you can rest assured you are covered for the life of the unit. This offer includes…
Thermann 26 continuous flow hot water system
12-year heat exchanger warranty, 3-year parts and labour
FREE temperature controller ($200 value)
Installation to existing plumbing in the same location
Connection to your existing natural gas or LPG supply
Gas certification
Removal of old cylinder
Excludes any electrical work. An LPG changeover regulator is included in NEW installations but will be an extra cost if required in a replacement scenario.

$1699
incl. GST
OUR REPLACEMENT PRICE*
$2899
incl. GST
OUR NEW-INSTALLATION PRICE*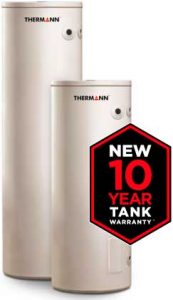 135 LITRE 1298mm x 492mm
180 LITRE 1697mm x 492mm
Thermann Electric Mains-Pressure HWC
We will replace your existing mains-pressure cylinder, or upgrade from an existing low-pressure cylinder. Indoor or outdoor installation! This offer includes…
Thermann 135 or 180 litre hot water system
10-year tank warranty, 3-year parts and labour
Installation to existing plumbing in the same location
Plastic safe tray – now a code requirement
Basic electrical disconnect and reconnect
Removal of old cylinder

$2149
incl. GST
OUR REPLACEMENT PRICE*
$2399
incl. GST
OUR UPGRADE PRICE*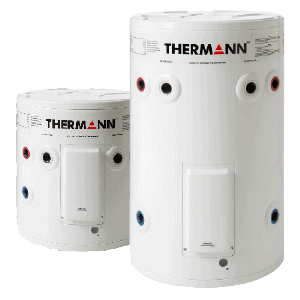 25 LITRE 455mm x 405mm
50 LITRE 670mm x 405mm
Thermann Electric Under-Bench Hot Water Cylinder
Thermann small electric storage hot water units allow you to install hot water where space and access is restrictive. Available in 'appliance white' for a more aesthetically pleasing unit. This offer includes…
Thermann 25 or 50 litre under-bench hot water system
7-year tank warranty, 1-year parts and labour
Installation to existing plumbing in same location
Mains-pressure valve pack and seismic restraint kit
Plastic safe tray – now a code requirement
Basic electrical disconnect and reconnect
Removal of old cylinder

$1799
incl. GST
OUR FULLY-INSTALLED PRICE*
* PLEASE NOTE
The above prices do not include any electrical (unless indicated) or building work as costs can vary
Replacement units must be in the same location and connected to existing pipework
Pricing valid until 31st March 2020 and all prices include GST