Nothing beats a nice hot shower, but that isn't possible without a reliable hot water system. When it comes to hot water installation, there are two main options: gas or electric. Both are great picks that each offer their own advantages, which we will explore in this blog to help you decide which one will work best for your home.
gas water heaters
For energy-conscious customers, a gas hot water solution is a great choice. There is no storage cylinder on gas hot water heaters, which means there are no energy losses from keeping water in a tank hot. These systems can be up to 95 percent efficient. Due to the low prices of natural gas, gas hot water heaters are typically cheaper to run than their electric counter parts. Continuous-flow hot water solutions, such as the Rinnai Infinity range or those from Thermann, only use gas on-demand, so there are no running costs when they are not in use. Gas heaters can recover water heat much faster than electric heaters, so there won't be any arguments over who used up all the hot water in the mornings! Gas water heaters also take up a lot less space than a cylinder tank system, which can be especially helpful in apartments or other smaller living situations.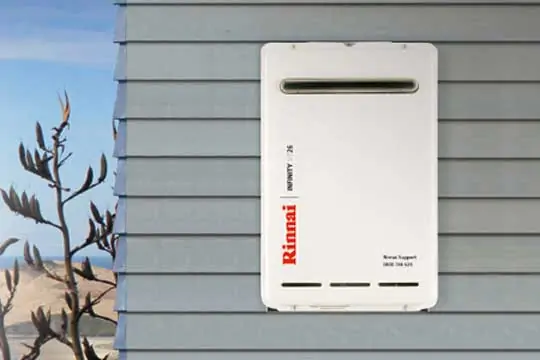 electric water heaters
The design of a hot water cylinder hasn't really changed over the years. Hot water cylinders use an element and a thermostat to heat the water in a tank to a certain temperature. As the water in the cylinder is used, it is replaced by cold water, which triggers the thermostat, activates the element, and heats the water. While the basic concept hasn't changed, there have been great improvements to insulation, elements, and thermostats — making modern electric water heating systems more efficient and effective than in the past. Electric hot water cylinders are the most common water heating method seen in New Zealand homes.
Electric hot water heaters are also easier to install, which makes the upfront costs cheaper. Conventional electric hot water cylinders average about a 90% efficiency rating. Most modern electric water heaters in New Zealand use mains pressure, so that water is delivered to the entire house at the same pressure. This means it is less affected by multiple demands on water usage, such as simultaneous showers, running taps, washing machines, and so on. Electric hot water cylinders have large capacities, so if you live in a household with only a few people, you shouldn't run into any issues with running out of hot water.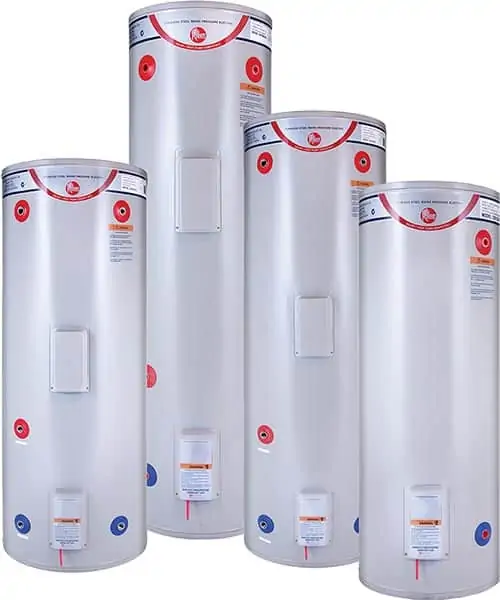 Need Advice? Auckland Plumbers Group can help
If you are still not sure whether a gas or an electric hot water heater would work best for your household, and you want some more information, get in touch with us today. Our friendly team of registered plumbers will offer you an obligation-free quote and advise whether you need hot water installation or just hot water repairs. We offer great solutions from top brands, including Rheem, Rinnai, and Thermann.