auckland gasfitting specialists
If you're looking for local gasfitters, look no further than the experienced team at Auckland Plumbers Group.
Whether you have a continuous-flow hot water system or a gas appliance, we have registered and certified gas fitting plumbers who can help. We install, service and maintain gas appliances in residential and commercial environments.

emergency plumbing
24 hours, 7 days / 365
0800 520 400
Your call will aways be answered
Auckland Plumbers Group can supply and install traditional hot water solutions—electric and gas hot water cylinders. Customers have increasingly opted for gas systems that produce hot water on demand. Such systems include the Rinnai Infinity and Thermann range.
A benefit of installing a continuous gas hot water system is that you'll never run out of hot water (if your gas and power supplies are continuous).
Modern-day gas systems are more energy-efficient with no standby heat loss. They take up less space and can even be installed on walls indoors or outdoors. They only draw on enough gas to heat the amount of water required at any given moment. These systems can save up to 70%* on your water heating bill, and the equipment typically lasts five to ten years longer than traditional hot water cylinders.
Gas systems make perfect sense to install, especially with new-builds, renovations or when replacing old hot water cylinders. Customers are always impressed with continuous gas systems. Many will prioritise finding a gas fitting service provider to install them when moving into a new property.
Please note: When upgrading from an electric hot water cylinder, you must consider the location of the new system. Internal systems must be in a cupboard and vented to the outside. External units have 'positioning' regulations that apply too. Speak to us.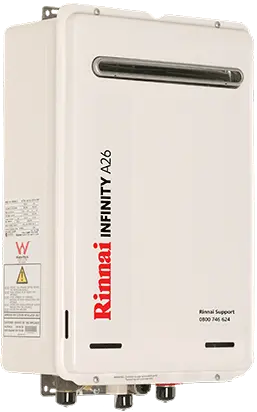 Book your gas job now with your local Auckland registered Master Gasfitter
we're here & there when you need us!
count on our team for your gas fitting needs
Whether you're installing a new gas hot water system or are looking for local gasfitters to perform maintenance, we can help. Our gasfitters and plumbers have immense experience on the job. You can count on us to help install and maintain your gas fittings to ensure you get the most from your investment. Call us today to learn more about our gas fitting solutions!
fully-installed gas pricing
Customers love the fully-installed pricing that comes with our gas fitting services. It takes the guesswork out of the true costs of your purchased products. We can provide pricing for brand-new, customer-supplied gas hobs and stoves. Check out some of our gas products below, alongside their fully-installed prices.