Is your tradesperson authorised?
Everyone doing plumbing, gasfitting and drainlaying work needs to be authorised by the New Zealand industry governing body, PGDB. This also includes those working under supervision.
Some tradespeople think that they don't need their own authorisation to carry out work, as long as they are supervised by an authorised person. This is not the case.
Any person who is actually doing plumbing, gasfitting or drainlaying needs to have their own authorisation. That applies whether they are registered, a trainee or a person working under an exemption under supervision.
All Auckland Plumbers Group tradespeople are authorised to carry out the work they undertake on your property. Is your tradesperson authorised?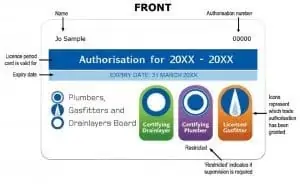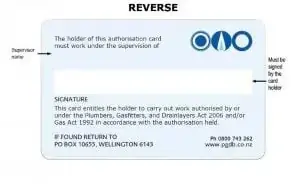 The PGDB issues all authorised people with a card which identifies the type of work they are permitted to carry out. Only certifying tradespeople are able to work without supervision. For everyone else, the authorisation card details what the person's supervision requirements are on the reverse, including the name of the supervisor. Work being undertaken by anyone who does not have PGDB authorisation is unlawful.
For more information visit www.pgdb.co.nz