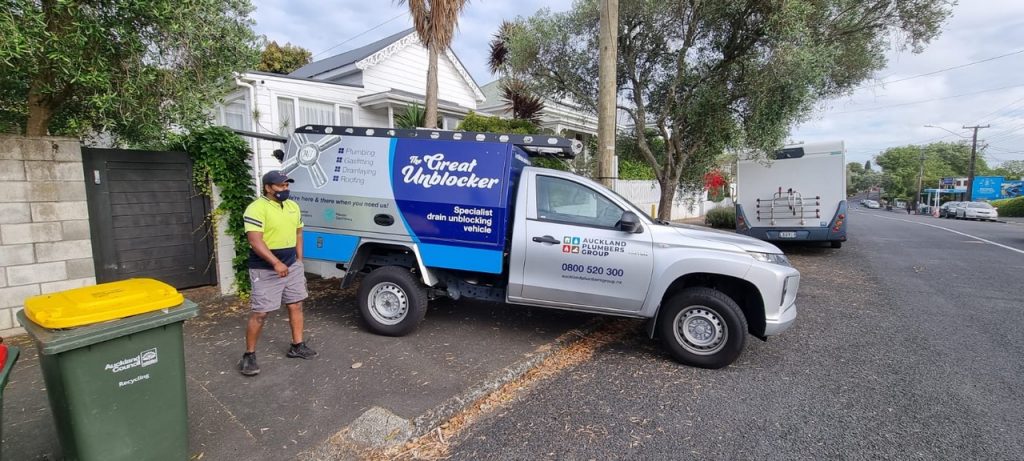 how we're taking drain unblocking to the next level
The Great Unblocker
Auckland Plumbers Group has a new Ute that specialises in Drain Unblocking. We've called it "The Great Unblocker." Drain unblocking has always been an important part of our business, but it has grown to the stage that we needed to purchase a new ute as a specialist drain unblocking vehicle.
Van-Mounted Jetting Unit
We have also purchased new drain unblocking equipment, including a state-of-the-art hydro-jet system. This unit clears drains by using high-pressure water to 'cut through' blockages, including root infiltration.
These machines have been developed over 20+ years to deliver the most compact yet effective drain cleaning package to Kiwi tradesmen using high-quality components from market-leading brands. This vehicle and equipment became operational under the Covid Level 4 lockdown and was very helpful in dealing with a variety of essential jobs, like sewer and wastewater blockages. Several members of our team have been trained on how to use this new equipment and we look forward to helping you should you have any drain blockage issues in the future.
what we can help you with?
As well as drain unblocking, we offer a huge range of services to keep your plumbing working the way it should, including:
CCTV drain survey
Drain repairs
Drain cleaning and jetting
Commercial and domestic drains
Blocked waste pipes
Overflowing manholes & gullies
Gully cleaning drain clearance
Drain jetting
Toilet, sink & bath blockages
Blocked showers
Dishwasher & washing machine floodin
Clearing commercial pipes
Unblock drainpipes
Investigating & removing bad smells
need us there quickly?
Auckland Plumbers Group emergency plumbing service can respond quickly to any type of emergency plumbing work. We have our people at the ready 24/7 to fix your urgent issue! We can tell you how to minimise any risk to yourself and damage to your property. We will send one of our tradespeople to your site and attend to the immediate problem.
Plumbing emergencies are downright inconvenient, and that's why our emergency plumbers are at hand 24 hours a day to respond to your call and our work is covered by the Master Plumbers Guarantee. Call us on 0800 520 400 at any time, our phones are manned 24/7.
Get a great deal with Auckland Plumbers Group
Our Refer-A-Friend promotion, which started on 1st November 2021, has been very well received. We were amazed to have your friends booking work within the first day of this promotion. Many thanks to those of you who have referred a friend.
Learn more about this exciting promotion.
Also, don't forget to check out our 'Hot Deals' every month to see our competitive prices on some of our most popular items