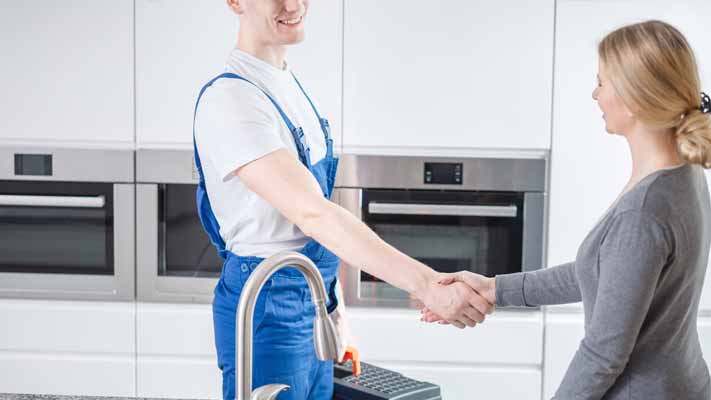 A relationship between property managers and registered plumbers is key to handling an unprecedented situation. It is always stressful for all parties involved when plumbing issues in rental properties rear their head.
Property managers are essentially responsible for protecting the tenant's assets. Below, we break down what property managers should look for in plumbing companies and highlight the importance of a solid relationship between the two.
keep things simple for yourself and your tenants
Without experience in the trade, any plumbing situation is almost guaranteed to be stressful. This point is especially true for property managers in charge of multiple properties.
Building an ongoing relationship with a plumbing company simplifies property management. You can prevent yourself from scrambling around to find a plumber if a situation arises.
This professional relationship is mutually beneficial. Tenants and property managers are left stress-free, helping to build your professional reputation while having more work available for the plumbing company.
From busted pipes to leaking taps, you always want to know that a professional is on the scene. An ongoing relationship gives you extra confidence in the expertise of your plumber and streamlines your working relationship.
24/7 service is necessary
Emergencies seldom wait for a convenient time to strike. Fortunately, property managers can build relationships with 24/7 emergency plumbing service providers. Plumbing service operating hours matter when choosing who to work with; you nor your tenant will want to wait more than a day to get someone on site.
You never want to leave an inconvenienced tenant waiting until the morning for working plumbing. For property managers, 24/7 service is essential, allowing you to handle emergencies at any hour. The sooner someone can get to the site, the less likely the issue will be to worsen. A plumbing issue left unattended will have a bigger chance of escalating into a bigger, more expensive fix.
work with a bigger team
Ensure that someone in the team is available to come and help you if your contractors are in high demand during a plumbing emergency. At Auckland Plumbers Group, our team can help you with more than just plumbing; we can cover all your gasfitting, roofing, and smaller plumbing jobs.
A bigger team of plumbing contractors means someone will always be available to help you. Auckland Plumbers Group, for example, offers a 24/7 phone service. A fantastic resource for property managers, this service can help you gauge the severity of a tenant's plumbing issue. Our team works with managers to ensure that any problem is dealt with quickly, minimising the risk of the issue evolving into a more complex and expensive fix.
we assist commercial property managers
Working consistently with one business makes things simple for everybody. We have long-standing relationships with property managers across Auckland who rely on our services and expertise.
Experienced with residential and commercial plumbing work, we understand how quickly an issue can ruin your routine or interrupt the flow of your business. A team with experience in specialised industrial and commercial work—backflow prevention, servicing, and certification—enables you to work with a single company for several jobs.
If a plumbing emergency quickly escalates in your commercial property, a reliable team that can return the building to business-as-usual is essential to saving time and money.
utilise your local 24/7 plumbers
Auckland Plumbers Group strives to simplify things for property managers so they can simplify things for their clients. Working with one business allows the team to become familiar with your property well. The relationship allows the team to understand your property, the plumbing, and historical issues. To ensure things continue to run smoothly, we can provide ongoing service and certification for your systems.
Auckland Plumbers Group understands the ins and outs of working with property managers. We work with some of Auckland's leading property management companies who count on us to listen, think, and act quickly on issues arising at their properties.